BD Medical's McKinley T34 Syringe Pump 3rd Edition.
BD Medical are now supplying areas with the 3rd edition of the McKinley T34 Syringe pump.
A significant change to the pump is that the keypad consists of icons rather than text (although colours remain the same).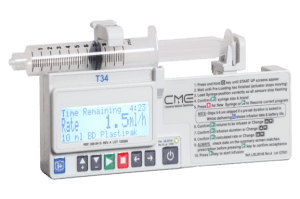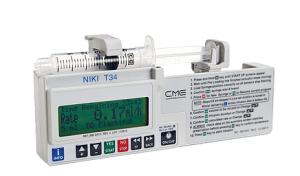 Another significant change is the reduced battery life to 25 hours (due to the increase in functionality and alarms).
For information:
Another additional function is the use of a 'bolus dose' facility. However, this can only be utilised if the pump is configured for its use and has the 'lock off' mode of operation.
Within Cheshire however the 'lock on' mode of delivery is the default mode of delivery and therefore cannot be given.
For more information, please access the BD Medical website below for more details, including videos to highlight setting up the pump and the new features:
https://www.bd.com/en-uk/products/infusion/infusion-devices/cme-ambulatory-infusion-systems/t-series-syringe-pumps/t34-ambulatory-syringe-pump-3rd-edition
Education and training can be access through The EoLP website: